Have you ever asked yourself, "where can I get high-quality dancewear that will not only look great, but fit…and oh yeah, I want it to come in more colors than just black?"
All the dance clothing at BDancewear.com is handmade in the USA out of premium fabrics, and every item is available in 200+ colors. We put in a lot of love and have a lot of pride in everything we make. We know it's the highest quality available because we make it ourselves by hand - we are not a middle man like most online dance stores. When you purchase dancewear from us, it is made from a pattern that Cynd herself has spent 20+ years perfecting, so it won't simply look great on stage, but it will fit great as well.
Cyndi Marziani, the owner of BDancewear.com has spent the last 20 years sewing and designing dance clothing for thousands of dancers. At one point, she realized that most the dance clothing available online only comes in black or nude, and it's usually manufactured overseas in bulk. She felt like dance clothing was something you should be proud of, something that you are not only happy you bought, but something you will want to wear again and again.
With the help of her son Travis, Cyndi started BDancewear to address just that problem. The pair wanted to start a company that took a different approach to manufacturing - a more customer-centric approach. They created a dance clothing company that cares less about profit and more about creating the best dance clothing in America. Based on the feedback from their customers, they feel that they have succeeded, and they plan to continue to make their dancewear better and better!

We pride ourselves in manufacturing all of our items in house, and many of our items are made to order. If your item is not in stock, our current manufacturing time is 1-3 weeks. However, if you need your item rushed please let us know. There may be additional charges for shipping and handling to insure you get your items on time.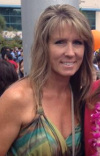 Cyndi Marziani has over 20 years of experience in creating custom costumes and outfits for dancers of all ages and experience levels. Recently, she was inspired to explore her talents on a more national scale. Cyndi and her son have made it possible for anyone to get their hands on those tricky items that perfectly match their dance costumes. B Dancewear knows that dancers want creative freedom when it comes to their outfits on stage, and nowhere else on the internet can you get as many options as you do with B Dancewear.