January Dancer of the Month Saylor Seufert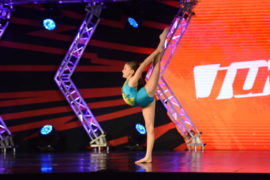 Our January Dancer of the Month, Saylor Seufert loves to dance, make slime, ride her bike and cook. She says she can be quiet sometimes but super silly, too. She describes herself as kind, helpful and hard working. Saylor began dancing when her mom started taking her to dance classes when she was just 3 years old and she met her dance teacher, Miss Brooklyne.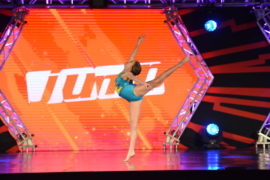 Saylor absolutely loved it! She loves to go to conventions and learn from some of the greatest dancers in the country. Going to JUMP and winning a VIP this year was very exciting for her and something she has always wanted to do. It has always been a goal for Saylor to go to New York City and she finally got to go there this summer. She hopes to go back to New York City someday and dance there. She says that she loves both the colors and the feel of the fabric in her costume that she bought from B Dancewear that was used in her costume. Her goals for this year are to become stronger and more flexible. She wants to continue to improve and grow as a dancer. Saylor hopes that she will be able to dance through high school and continue to get better in her dance technique. She would love to go to college for dance, but says that she has a lot of work to do before then! She also hopes that dance will take her to her dream to be a professional dancer.