February Dancer of the Month Brian Collins
O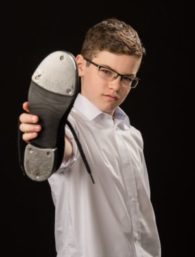 ur February Dancer of the Month, Brian Collins, says he is a very energetic, constantly moving, tapping machine. He likes all styles of dance but tap dancing and body percussion are his favorite. It seems like he is always dancing somewhere. He is either at school, his studio, or his tap company and feels like his fellow dancers are more than friends, they are his extended family. When at home he loves to play with his big fluffy Goldendoodle named Norman and play video games with friends.
Brian started dancing in second grade when he signed up for a Hip Hop class and loved it. In fifth grade, he took his first tap class and his feet haven't stopped since!
He has had so many happy moments related to dance that it is hard for him to name just one. One of those happiest moments was getting the Fabulous Feet judges choice award and the Best in Category for tap at the very first competition where he performed a tap solo. Being chosen for a scholarship to attend the OC Tap Fest was another one.

Brian says he has always wanted to go to California. It will be a dream come true for him to attend the OC Tap Fest this summer!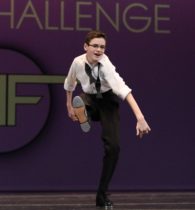 Great is tall and thin and found it great that B Dancewear offers custom lengths for his dance pants.
Brian's goals are to get straight A's all year in school, place 1st for his tap solo at a competition, and make the high school dance team.
He likes to live in the moment and hasn't thought a lot about where dance take him. Right now he just loves trying to master new techniques and try out new rhythm sounds and combos.