Chloe Hagerman Dancer of the Month for September
Chloe Hagerman, our Dancer of the Month for September 2017, describes herself as a "very hard working and enthusiastic dancer who is outgoing, compassionate, and fun-loving with a great sense of humor." Chloe got started in dance about four years ago when she was invited to a "bring a friend week" at their studio and, as they say, the rest is history.
According to Chloe, she did not have one "happiest dance related moment," she had several moments that occurred when she won the 1st Place Overall Award at all of her regional competitions during her first year as a competitive dancer.!
Something that Chloe has always wanted to do was take a class from Mia Michaels. She has followed Mia and her choreography for several years. She loves Mia's passion, style, and the stories that Mia tells through her dance.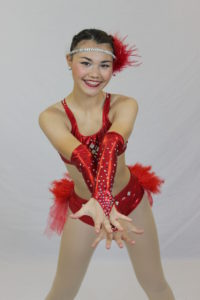 Chloe found buying from BDancewear a great experience. She says they made designing her first solo costume a breeze!! The fact that they offer so many choices in colors and fabrics and are so helpful really assisted her in that effort. Plus, she has won several costume awards with her Bdancewear!
Her goals for this year have to do with improving her dancing. She says she is focusing on improving her left side technical elements to continue to expand on her versatility as a dancer.
In Chole's view, dance has already opened many, many doors for her. She is currently a teacher at Supernova Dance Authority, and she hopes to earn a position on a collegiate dance team to help pay for her education. She would love to find a way to continue to share her passion for the art of dance with the next generation of dancers in the future. Dance has changed her life and she wants others to experience the excitement and happiness that it brings her every day!
Almost everyone can learn to dance but not everybody can learn to Dance with a capital "D." That takes real talent and Chloe obviously has that talent!