June Dancer of The Month Wil Robertson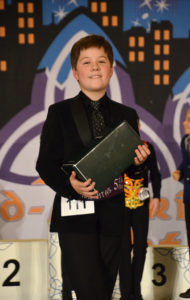 Wil Robertson, our Dancer of the Month for the Month of June, considers himself just a "regular 12-year-old kid with a secret life of Irish Dance." He believes that no one outside of the world of Irish dance would probably even know anything about Irish Dance. Wil will be attending middle school next year. He has one sister and two cats. Wil enjoys music, video games, jokes and riddles, reading, computers, technology and learning about the latest inventions. Not only does he enjoy dancing, he also sings in the school choir and plays both the viola and trumpet. He is obviously a very busy and talented young man.
When Wil was just 4 years old, he saw Irish dancers in the Columbus St. Patrick's Day Parade. He decided that he would like to try that. He saw them again the next year and felt the same way. At the end of that year when He was 6 ½ years old, both Wil and his sister began taking lessons together at The Academy Irish Dance Company.
Wil says his happiest dance moment was winning the competition at Oireachtas. He was just 9 years old at the time and it was first time competing there. He says that he was amazed and crazy happy. Wil explains that Oireachtas is the regional competition and consists of dancers from 14 states.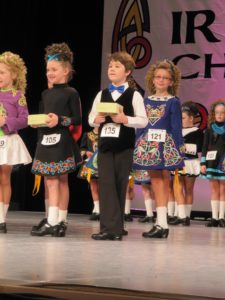 Recently, Wil competed at the 2017 North American Irish Dance Championships in New Orleans. He came in 10th and qualified to compete at the World Championships of Irish Dance next spring in Glasgow, Scotland! Coming in 10th place among dancers from all over the United States and Canada (and many overseas competitors) is huge!
Wil has wanted to have really fancy steps like the world champions every since He started Irish dancing...
According to Wil's mom, He was overwhelmed by the customer service at Bdancewear. He had purchased green jazz pants to complete Wil's Emerald City costume for his Wizard of Oz themed recital. He says the pants were perfect for his recital costume, were exceptionally well made and allowed him all the flexibility required for fast footwork and high kicks. His mom says that He could not believe the customer service He was shown when placing a VERY last-minute order for a pair of jazz pants. BDancewear went out of their way to make it possible for His to get the pants when He needed them. BDancewear did this in a way that was convenient for him and was not extravagantly priced. He really was amazed when, even after he completely failed to get his expedited shipping order in on time, he still received the pants when he needed them. On top of that, the pants are really nice!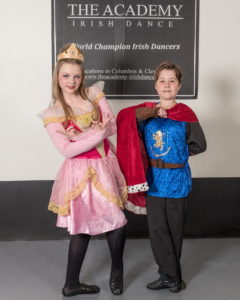 Wil's goals for this year are to go to the World Championships and dance well enough to recall, which means he would finish at least in the top half of all the competitors. Even though He qualified last year to compete at Worlds, he did not go so this will be his first time competing there. He is working very hard and adding new exercises to his routine to help his perform difficult steps and finish strong on stage.
He also wants to succeed in middle school. He will be taking seventh and eighth-grade classes next year although he will actually only be in sixth grade. His goal is to do well in school. Dance well, and have fun!
Eventually, Wil hopes dance takes him to big show routines like those from Riverdance or Lord of the Dance.